Crocheting
Yay, summer has arrived, if anyone know what's that mean, NOT SWIMMING or even anything beach related. I am never such an outgoing person, if there's a chance to not joining sports event, I'll be the first person to give away all my sports equipment, well, give not even sell.
No matter how bad I am at crafting stuffs, craft is always something that I like. I'm a tad awful innit, but that's fine, I love it. Sport is another thing though, no matter how much I hate it, I just hate it. Yeah, hate, hate, hate, hate it.
Many reasons why I hate sport, here are the top 3 why: outdoor, if not, groups/pals, and the last, too much to coordinate. That's why I prefer craft, craft in some way, is like a mini sport: you can do it outdoor if you want to (I prefer indoor, ha), alone or in group if you're chatty (I'm not), something to coordinate, but no peer pressure.
I thought I was a boyish girl, that was until I met crochet. Crochet is like making a slipknot over and over and over again, until you have made something, the idea was fun and I like it. I was really really terrible at first, I couldn't even make a square coaster. (Yes, plain square coaster, no Irish style or whatever it is), but after a year, I managed to finished a short scarf, it was cute, but it took me a ridiculous amount of time to finished it.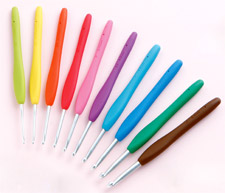 HOW TO START CROCHETING
Crocheting is a simple activity; it requires simple equipments, if you live in a community that pretty much abandon crafts, you're almost doom, keyword, almost. For the very basic crocheting, you only need two items: hook and yarn. Hooks are sold on crafts shop, and you can find yarn too in there. There are many size of hooks, and to be honest, I too, don't know the size and whatsoever of it. I just know that each yarn has specification of hooks to use. You can ask the employee to find the right size, although you can quite determine which is the right size once you see the yarn and the hook.
There are many type of yarns, I advice you to buy the cheapest one for the first time. You don't know whether you will stay crocheting (for lyfe, like me) or quitting it (like my sister). After gathering the equipment, all you need to do is to search the internet for tutorials.
Youtube is great for video tutorial, and I prefer it when looking for a step by step crochet techniques, instructables is great for step by step pattern.
HELPFUL WEBSITES
Living in the 21st century gives us many access to everything we need to know about something, no matter how embarassing it is. Crocheting has been made easier by the webs, and here are the list of most helpful website (for me) for crocheting:
Ravelry :
Craftsy
Youtube
Instructables
Etsy
What matter the most in crocheting for me is to have fun and trying new things, creating something everyday and be productive. Every progress you make is every step you gain to reach a bigger goal.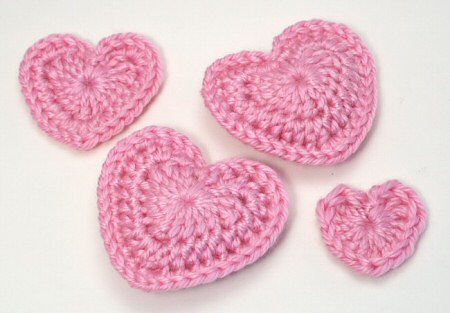 planetjune (love hearts pattern)
That's all for today, next time, I post some cute and easy patterns!
I've been crazy all day about making an amigurumi, it is my first time and I hope I won't mess it up. I've been spending my entire day trying to perfecting this 'magic ring' and I start to see some shape. *finger crossed though*, how about you guys? Have been picking up a new hobby lately?